B. RAJA SEKHAR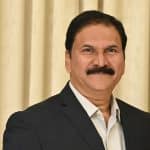 Executive Director
Prakasa Spectro Cast Pvt ltd,Vijayawada.
Manufacturers of Alloy steel castings of 10 MT single piece.
We PRAKASA SPECTRO CAST(P) LTD , an ISO 9001:2008 certified company, estd in 1996 take the pleasure in introducing ourselves as the manufacturers of various grades of CAST STEEL, CAST IRON ALLOY STELL, MANGANESE STEEL , S.G. IRON , Ni-Hard & High Chrome cast upto 10 MT single piece as per customer's requirement .

ADDRESS:
PRAKASH NAGAR, ENIKEPADU, VIJAYAWADA –521 108, INDIA.
PHONE NUMBER
+91-866-2842716, 2842816 ,2841773
EMAIL ADRESS
prakasaspectro@gmail.com
BUSINESS HOURS
9am – 10pm (Mon – Sat)
WEBSITE